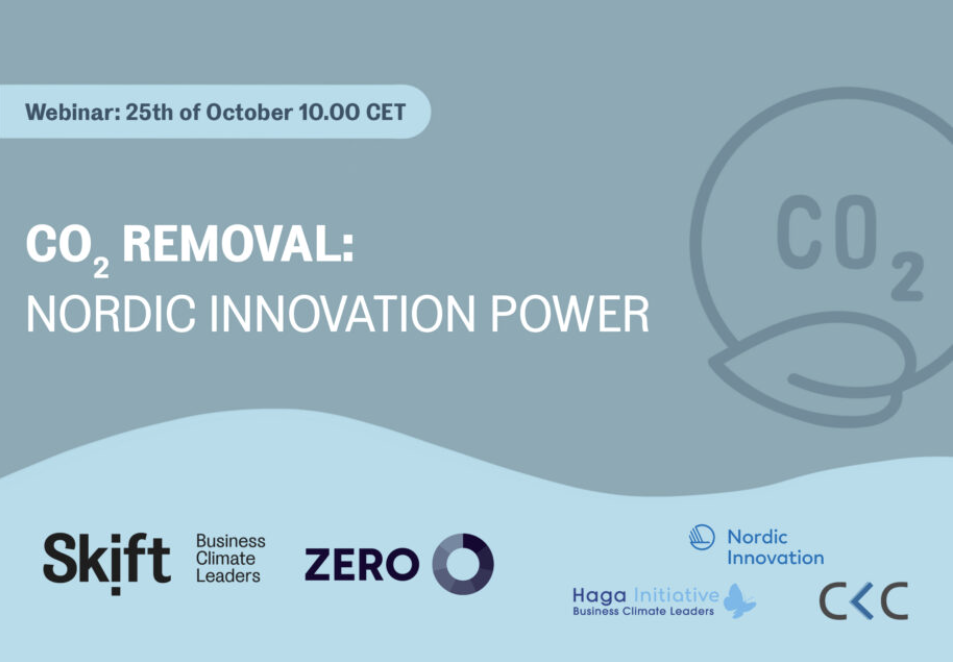 Skift- Business Climate Leaders and the environmental organization ZERO invites to a webinar on CO2 removal in the Nordic region.
Date: 25th of October
Time: 10.00 am CET to approx. 12.00 noon.
The goal of the Nordic Innovation Power project is to contribute to make Nordic countries a testbed for new technology, innovations, and business models that will accelerate the green transition, reduce CO2-emissions drastically, and strengthen Nordic competitiveness.
This webinar will explore different CO2 removal projects in the Nordic countries and discuss what policy changes are needed to quickly scale up negative emissions technologies.
Agenda:
Anders Lyngfelt, Professor at University of Chalmers (SWE)
Martine Mørk, Advisor, ZERO (NO)
Mikkel Krogsgaard Niss, head of secretariat, Carbon Capture Cluster Copenhagen (C4) (D)
Silja Eythorsdottir, Communication and marketing, Carbfix (ISL)
Aslak Hellestø, Business advisor, Northern Lights(NO)
Arnaud Defrance, Vice president Carbon removal solutions, Puro Earth (FIN)
Karolina Unger, CEO Klimpo (SWE) – video
A conversation between Bjørn Haugland, CEO Skift (NO) and Tuuli Kaskinen, CEO CLC (FIN)
The session is moderated by Anne Marit Post-Melbye (ZERO)